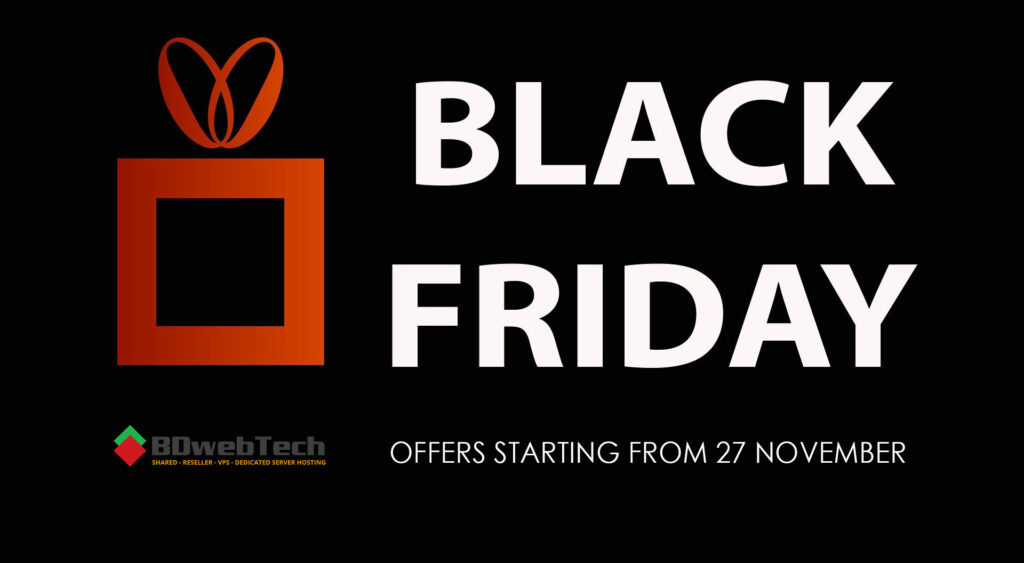 FREE Domain Registration*
Register .xyz or .top domains FREE with any of the hosting package 
90% Discount on Shared Hosting
Apply coupon code "bf2020sh" during checkout. Order Link: Click Here
60% Discount on SSD Hosting
Apply coupon code "bf2020ssd" during checkout. Order Link: Click Here
30% Discount on VPS
Apply coupon code "bf2020vps" during checkout. Order Link: Click Here
Upto 30% Discount on Dedicated Servers
Please choose the Dedicated server from This Link and let us know. We will set the discount for you and will get back to you.
Visit our Facebook page and "Like" it to get notified about the offer: https://www.facebook.com/bdwebtech/
Terms & Conditions:
The highest discounts will be available on Black Friday (27-11-2020) and on Cyber Monday (30-11-2020)
Discounts will be available throughout the rest of the year 2020.
Free domain registration will be applicable for .xyz and .top TLDs only.
Free domain registration is applicable for 1 year only. Regular renewal price will be applicable for 2nd year onwards.
Free domain registration is only applicable with any of the hosting package. This can be availed in conjunction to offer available for hosting packages.
We reserve the rights to Stop, Modify the offers, and also to Accept/Reject the orders whenever and wherever we feel necessary.